September 2019 Market Update
Residential sales across B.C. up 12.4% from last year: BCREA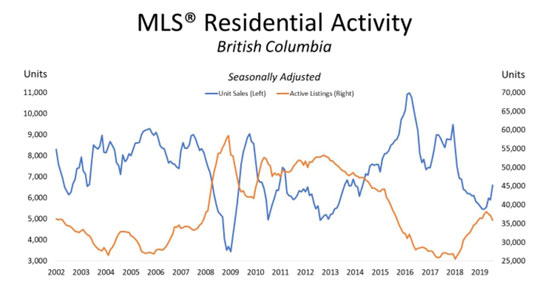 With home sales making a significant year-over-year jump in the Lower Mainland in July, residential transactions for the whole of B.C. followed suit, according to stats released August 13 by the B.C. Real Estate Association (BCREA).
"B.C. home sales climbed higher for the first time in 18 months on a year-over-year basis in July," said Cameron Muir, BCREA's chief economist. "Households appear to be adjusting to the tighter credit environment as the shock of the B20 stress test dissipates."
The association reported that housing demand has "trended higher since March, rising 21 per cent on a seasonally adjusted basis."

Click the link below to view the monthly market statistics for your area in an easy to understand infographic. Listings, sales and prices are summarized for condos, townhomes and single family homes in cities across BC.

Here's what you need to know about the First-time Home Buyer Incentive

The program is aimed at making it easier for young people to buy their first home by lowering new buyers' monthly mortgage payments. Introduced by the Liberals in their 2019 budget, the federal government will absorb five per cent of monthly mortgage payments on existing homes and 10 per cent on new builds.
B.C. Real Estate News
LOWER MAINLAND
WHISTLER
VICTORIA & VANCOUVER ISLAND
OKANAGAN
This communication is not intended to cause or induce breach of an existing agency agreement.
**Should you no longer wish to receive this communication, please reply to this email with "Unsubscribe" in the subject line.
©2019 Macdonald Realty Ltd. 2105 W 38th Ave, Vancouver, B.C. V6M 1R8 | macrealty.com