Home sales in B.C. to drop 21% this year: forecast
It may be no coincidence that one forecast issued August 20 is predicting a decline in B.C. home sales this year of around 20 per cent, while a separate study has found 18 per cent of would-be buyers are being locked out of the market by the new mortgage stress test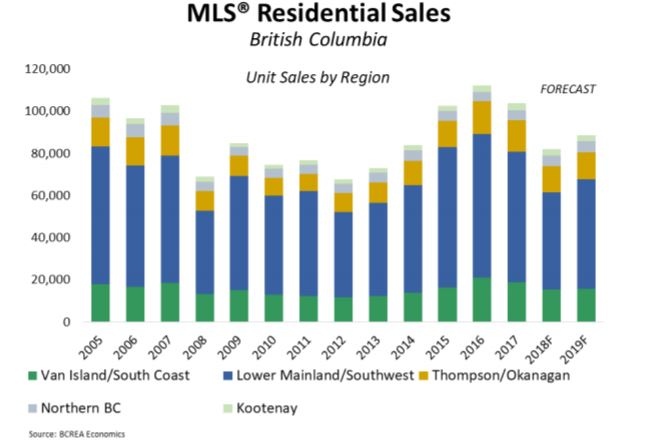 MLS residential sales across the province are expected to be 21 per cent lower in 2018 than in 2017, dropping from more than 100,000 to around 82,000 transactions this year, according to a new forecast by the British Columbia Real Estate Association.
The BCREA lays the blame for this squarely at the feet of the mortgage qualification stress test that was introduced for all home buyers in January 2018. This requires that all mortgage applicants qualify for a mortgage at a higher rate than they will actually pay, to ensure their ability to continue payments in case of financial difficulties or future interest rate rises. However, it also has the effect of reducing the amount that home buyers are able to borrow, by up to 20 per cent.

Monthly Local Market Update
Click the link below to view the monthly market statistics for your area in an easy to understand infographic. Listings, sales and prices are summarized for condos, townhomes and single family homes for cities across B.C.

Top picks from the new Ikea catalogue

Western Living highlights this year's Ikea collection-some revisits in a new light, some hot off the designer's floor-all guaranteed to bring Swedish order to your life.
B.C. Real Estate News
LOWER MAINLAND
VICTORIA & VANCOUVER ISLAND
WHISTLER & SQUAMISH
OKANAGAN
This communication is not intended to cause or induce breach of an existing agency agreement.
**Should you no longer wish to receive this communication, please reply to this email with "Unsubscribe" in the subject line.
©2018 Macdonald Realty Ltd. 2105 W 38th Ave, Vancouver, B.C. V6M 1R8 | macrealty.com